Helping canines return to what they love to do, whether that be agility, dock-diving, hunting, fetching a ball, or going on a walk with their best friend, is immensely rewarding. Let's get you and your canine athlete back to play!
TCHOUP
In May 2015, Tchoup, my 4 year-old golden retriever, began exhibiting an occasional limp. We went to several local veterinary surgeons who diagnosed a CCL tear and advised surgery, and TPLO to be exact. Being only 4 and an active competitive agility dog, I was hesitant to pursue a TPLO at that time. When I explored alternative treatment options it was recommended that I consult with Dr. Franklin.
I was impressed by Dr. Franklin and his thorough approach to examining Tchoup and outlining our options. Ultimately an arthroscopy performed by Dr. Franklin revealed that Tchoup did not have a CCL tear, but rather an isolated meniscal tear, which he treated arthroscopically. After completing physical rehabilitation, we returned to competing in agility where Tchoup made the BDA breed power 10 list for his height. I am so thankful that Dr. Franklin was able to offer PRP and arthroscopy.
Carrie Neyland
New Orleans, Louisiana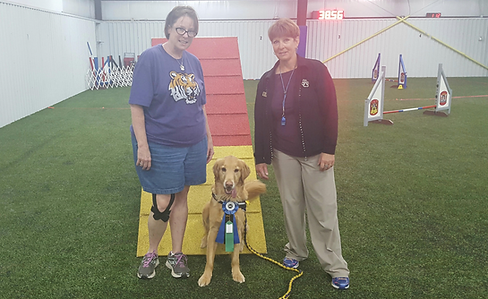 Note that Tchoup's care was published in a journal article written by Dr. Franklin, the purpose of which was to emphasize that not all dogs with knee injuries have a CCL tear and that alternative explanations for lameness and treatment should be considered. You can find that article
here
.
SALLY
Sally, my chocolate Labrador Retriever, has been a competitive dock diver since she was 7 months old. Through the years of competition, Sally earned the following DockDogs® titles: Master in Big Air, Cadet in Extreme Vertical, Turbo in Speed Retrieve and Warrior in Iron Dog.
By 2014, Sally had competed in two National Championships (2009, 2010). She also qualified for the 2011 and 2013 National Championships. By the time the 2014 season around rolled around, Sally was at the top of her game, setting new personal bests. Unfortunately, at the 2nd event of the season, she came up out of the pool lame on her right hind leg. Sally was referred to Dr. Franklin.
Dr. Franklin performed ultrasounds, an MRI, and after a thorough orthopedic and neurologic diagnostic evaluation, it was determined that she had a herniated intervertebral disc in her lower back. Of course, the first thought to me was "How can we fix this?". Dr. Franklin discussed surgical treatment and non-surgical treatment options and recommended we treat Sally with a series of epidural corticosteroid injections and rehabilitation.
When I heard this, I prepared myself for the fact that she would never compete again. But that was not to be the case. Although I wanted Sally to compete, I knew my first priority was to make sure she did no further damage to her leg, whatever the injury. I pulled Sally from all competitions for the rest of the season so I could focus 100% on her healing and rehabilitation. There was more rehab, more rest and a second look at her competitive plan of action. Dr. Franklin assured me that she would be able to compete again.
Sally had always had great "pop" on the dock. That means she would launch off the dock up at an angle like an airplane taking off. Dr. Franklin advised that she might not be able to pop any longer, but that she could very well still jump "flat" or straight out. So instead of focusing on "popping" Big Air jumps and Extreme Vertical jumps, we began to focus on flatter Big Air jumps and Speed Retrieve.
Disc disease or injury never stopped her. She went on to earn invitations and compete in the 2015, 2016, 2017 and 2018 World Championships. Her crowning glory was at the 2016 World Championship when at 10 years old, she came in 6th place in her division. You would never have known she had experienced any orthopedic problems at all.
Sally retired from dock diving last year at the 2018 World Championship due to an illness not related in any way to her disc disease. She is now 13 years old, and if it weren't for this illness, she would still be competing, as after Dr. Franklin's course of action, she is orthopedically quite sound.
I will forever be grateful to Dr. Franklin for treating my girl, Sally, in a non-surgical manner so she could continue in the sport she loves so much.
Nancy A.
DIXIE
When we met with Dr. Franklin regarding Dixie's injury to her right elbow, I doubted that she would be able to return to her active and athletic lifestyle. But Dr. Franklin and his team gave us reason to be optimistic that she could return to a great hunting dog and family pet. Dr. Franklin gave us extensive instructions on how to care for her after the surgery and we followed them to the letter.
I'm proud to report that she has had 2 very active hunting seasons. She hunts about 30 days per season and has retrieved hundreds of ducks. In addition, she brought back at least 2,000 training dummies, countless golf balls while walking on the course, is an excellent companion in the fishing boat, can hike for miles, and makes a pretty good dog at the office!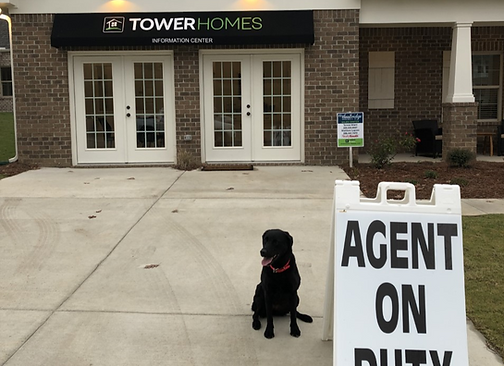 Dixie is family. We take her everywhere. Thanks to your efforts, she has enjoyed a robust life. We are grateful for the work you did for our beloved friend.​
With gratitude,
Price & Meg Hightower
Birmingham, AL
IKE
We welcomed Ike into our family in 2015. He was an adorable, sweet, and loving puppy! While playing with some other dogs he was knocked down and literally screamed. The worst sound we had ever heard. Ike had a hard time walking and we were worried that he had broken something. We took him to our vet where x-rays were completed, and we were devastated to learn he had a severe case of hip dysplasia. He was only about 3 months old. The prognosis was quite poor, and we knew we would have to intervene if he was to live much past the age of 2.
Hip replacement surgery was something we had never thought about as lifelong pet owners. Ike was so young and firmly entrenched as a member of our family, we could not imagine him living in pain and having a very short life. We decided to travel to Colorado Canine Orthopedics at the recommendation of an Orthopedic specialist in the KC area. In May of 2017 Ike had his first total hip replacement. We knew at the time he really needed both hips replaced, however, our hope was that this would be enough to ensure him a comfortable and long life. He did so well after this surgery!
He was able to go back to being a dog who could run and play with his "sister" Echo our black lab. He did very well for a couple of years. Ike then began to have episodes where he was very sore and would have some days where he had trouble walking.
We made the decision to go back to Colorado Canine Orthopedics and saw Dr. Franklin. He was able to replace Ike's other hip. We were told that his hips were some of the worst they had operated on. With Dr. Franklin's expertise, Ike had a very successful surgery! We are so grateful to Dr. Franklin for taking such good care of Ike. We know that if we hadn't had his hips replaced, he would no longer be with us. He is now 6 years old and lives the best life! He goes on walks every day, plays with his 'sister', often goes swimming and travels with us each summer.
We are so excited to hear that Dr. Franklin has moved to the Kansas City area. The level of experience and expertise that he brings is a much-needed resource for the Kansas City community!
Caren & Craig Howes
Leawood, Kansas
Q: A Master National Hunt Test Hall of Famer
Q is an active retriever and competitor in hunt tests. Unfortunately, he injured his right wrist in the spring of 2020. One surgery was performed locally but by the summer of 2020 Q still couldn't use the leg. At that point it was concerning that Q would ever function well on that leg again, let alone be able to return to competition.
We traveled to see Dr. Franklin and given the degree of damage that was present he recommended a fusion (arthrodesis) of the wrist. Dr. Franklin was optimistic that Q would be able to use the leg again and said there was even a possibility he could return to competition. Surgery was performed in autumn of 2020 and went well. We then followed through diligently on the post-op care including doing extensive rehab with Connie Schulte. After months of such rehab, we eventually began short retrieves in spring of 2021.​
By summer 2021 Q was back to competing in hunt tests including swimming well and loving being back in competition! He did so well after the operation that he earned qualifying scores at 6 different United Kennel Club (UKC) events on land and water, earning the title of Hunting Retriever Champion. Here he is sporting his ribbons from the UKC!
In 2021 Q also competed for the third time at the American Kennel Club's Master National. The Master National is approximately a week long test consisting of retrieves on land, water, and a combination of land and water. He passed the test, thus earning the title of Master National Retriever. Further, since this was his third successful pass at the Master National he became a member of the Master National Hall of Fame! You can find Q in the list of Hall of Famers here (http://masternational.org/meet-the-new-2021-hall-of-fame-master-national-retrievers/).
That success at the Master National means that he earned two titles for retriever performance from two different organizations after his operation! We are so pleased with Q's success!!!!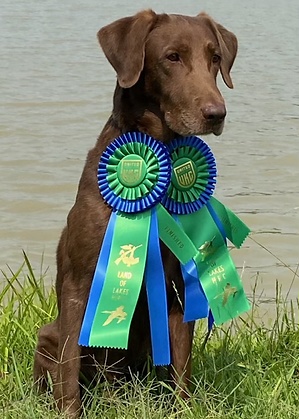 ASHE
Ashe is an active agility competitor and has only one speed, fast. However, in the summer of 2020, he started limping on his right front leg after training. We had diagnostics performed and there was a suspicion he may have injured the biceps tendon in his right shoulder. We tried resting him followed by rehabilitation but whenever we tried to increase his activity and get back to training the lameness would return. We eventually decided to take him to see Dr. Franklin and he performed a CT scan.
The CT scan was helpful but not definitive and so the following day Dr. Franklin performed arthroscopy to evaluate Ashe's right elbow and shoulder to try and reach a firm diagnosis. What he found was interesting. Ashe's elbow was normal and so was the biceps tendon in his right shoulder. However, he had an injury with tearing of the labrum of the right shoulder.
Dr. Franklin performed a PRP injection and recommended continued rehabilitation with an additional PRP injection. We followed through on those recommendations, continuing rehab with Connie Schulte and also getting an additional PRP injection. With the combination of rehab, time, and the PRP injections, Ashe has improved and is back to competing in agility.
We were really pleased that Dr. Franklin could make a diagnosis in a minimally invasive manner and that Ashe didn't need surgery. Ashe is thrilled to be back in action and so are we!!